Voice commands almost sound too easy, don't they? With a few spoken words, you can find exactly what you're looking for and then buy it without scrolling through product pages or typing long URLs into the address bar. In fact, according to a Google study on voice trends, 41% of smartphone users say they use voice assistants daily, and 64% use them at least once a week.
This makes voice search the next big thing when it comes to
eCommerce trends
, and that means you need to be ready to optimise your online store for it.
So what exactly is voice search? How can eCommerce websites benefit from it? How can you optimise for it? Here are the answers to all these questions!
What is Voice Search, and how does it work?
Voice assistants recognise a limited set of natural language and process queries made in a conversational tone. It's best to think of the interaction as a conversation, rather than a standard Google query.
For example, if you ask Siri "Where can I buy Italian pizza" (and you have your location turned on) Siri will list all the places around you that sell Italian style pizza. If you keep the conversation with her, she'll go through all the results one by one and ask you whether you'd like to call the place or get directions to it. You can give voice commands for both these actions and Siri will comply, speeding up dramatically the process of finding an Italian pizza place.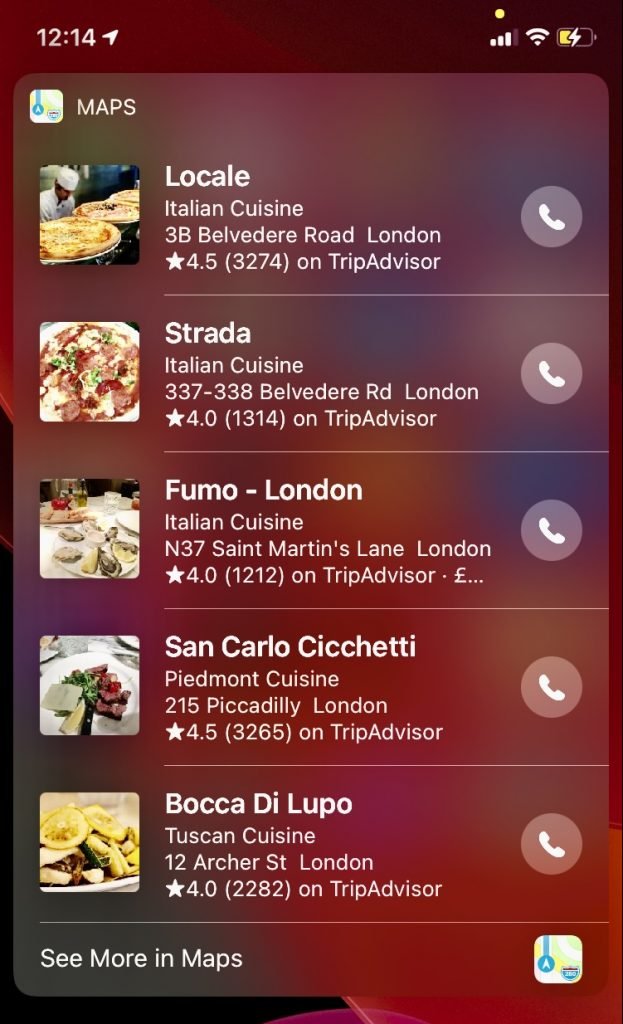 By default Siri pulls data from Google's search engine. If you're a local business (like a restaurant, a brick-and-mortar shop, etc.) it's imperative that you optimise your website for local SEO in order to get the best chance of showing up when people perform voice searches.
The situation with Cortana, Microsoft's virtual assistant, is similar, however, for obvious reasons its default search engine is Bing. Google of course offers their own voice search service, which is integrated into Google's mobile and web search engine as well as third-party devices like Amazon Echo and Android Auto.
In recent years, it often offers suggestions based on your history, providing faster ways to find what you need.
The benefits of optimising for voice search in eCommerce
One of the biggest benefits of optimising your website for voice search is that it allows you to engage with potential customers even when they are not looking at their screen or even holding their phone.
This gives customers much more flexibility: they don't have to worry about typing on their small touchscreen devices, not to mention people with visual impairments. Google takes the accessibility matter ever more seriously, and whether or not your website is optimally accessible will impact not just your users, but your Google rankings as well.
Other benefits of optimising your eCommerce website for voice search may include:
- Making it easier for people to navigate
- Allowing you to integrate directly with voice assistants without having to worry about customers being able to use this option on your website; i.e. it's an accessible UX methodology that works across devices and platforms
- Provide a prompt response to a query - if you have a smartphone/tablet with voice search (like the Amazon Echo or Google Home), you can say to your device: "Find me an electric toothbrush" and it will usually respond in about 2-3 seconds; whereas typing the same question would take longer and probably feel much more tedious.
Remember, if you don't optimise for voice search, there is an excellent chance one or more of your competitors will do so and cut into your market share.
9 Actionable Tips for Optimising Your Online Store for Voice Search
1) Start by optimising your product titles. When working on the titles, you need to tread carefully. On one hand, you want to be as descriptive as possible. For example, if you sell jewellery online, you might write a title such as "solid gold bracelet"; however, "18ct gold yellow IPV2 bracelet (solid)" would be much more specific.
On the other hand, you need to keep your titles reasonably short and relevant enough. Some SEO experts advise sticking to simple keywords in the title, arguing that when using conversational language, people rarely go into details. Whenever possible, try to keep your product length within a couple of words and also, remember that if you surpass 60 characters, the rest of your title will not display on Google's results.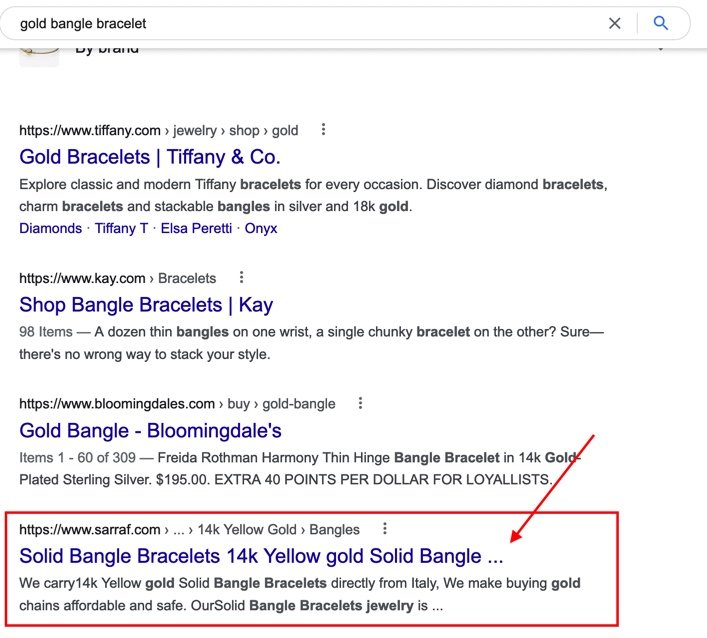 Try to achieve a good middle ground by optimally aligning your titles with carefully selected popular queries and personalised keywords (brands, products names). Thorough keyword research is crucial; perhaps you consider one specific attribute very important and you always put it in the title, yet people don't look for it as much as you think. Or you use one specific keyword to describe your product and it turns out that typically, visitors use another keyword most of the time to describe it.
2) Find out what your audience's questions are. This is relevant to the tip above; in order to answer your customers' question, you should know what they are. Don't just research keywords, research questions.
You can start by typing a question in Google ("Where can I buy where women's wrangler jeans") and check these three places:
People also ask (question section)
Google's autocomplete (in the search box itself)
Google's Related searches (at the bottom of the page)
While the latter one is more suitable for general keyword research, sometimes you can still find more conversational types of queries.
There is also an
absolutely amazing tool called "Answer The Public"
which can be extremely helpful when you're fishing for questions or brainstorming long-tail keywords.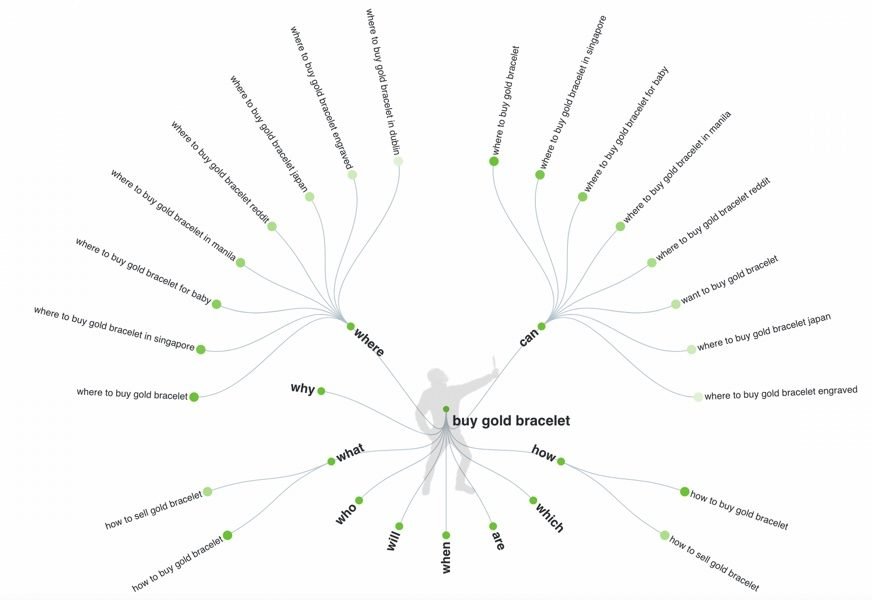 3)Target the questions "What" "Where" and "How". Once you're done researching the most popular questions relevant to your business, you can also brainstorm some further questions that start with these words. Many of the voice searches start with the above-indicated terms, so if you can think of some which didn't pop up right away, you will cast an even wider net.
4) Use structured data markup (rich snippets). Structured data are HTML tags that provide additional information about what a page contains through Google Search results so that people can get more information out of it. While they don't affect rankings directly, they can give you a competitive edge.
A huge chunk of voice results are pulled from the featured snippet (the first result you often see on Google, usually expanded into a paragraph in order to give an immediate answer). Similarly to voice search, featured snippets are looking for precise information, which could be provided by structured data (opening hours, price, shipping options, etc.). By using structured data markups, you'll be targeting both options.

Popular eCommerce platforms like
Magento
and
WordPress
offer plugins and extensions for structured data, so implementing it is really easy.
5) Consider having an
Alexa Skill
for your brand: this is a small app that allows Alexa users to do things like play music through your website/brand. Think of it as a "mini-app" within the larger app (Alexa) that gives customers another way to access your product/service information.
Alexa Skills can help you make your content more accessible and up-to-date, even if you don't have a dedicated ranking page for it. An example of this is the eCommerce brand REI, which has an Alexa Skill that allows users to
ask Alexa what their current sales are
, what classes are coming up, etc.
6) Don't try to use voice search as a quick way to drive traffic: It's no longer about driving traffic through keywords anymore; it's about making content accessible via natural conversation we have with each other.
What does this mean in practical terms? Simply stay away from incoherent keyword stuffing. While this approach may still works for some search algorithms (like Etsy's search engine) when it comes to optimising for Google, your content will not do much good if it can not stand on its own in a natural conversation.
Write your content in line with the way the visitors would talk about or ask questions about your products/services, i.e. through conversation rather than a string of keywords. If your product descriptions aren't a good place to write lengthy paragraphs of conversational text, a great option is to create a Q&A section.

7) Be on the lookout for new devices: Voice search is becoming more and more popular, so obviously new options will appear in the next few years. An example of this could be Wear OS, which is currently used by
several smartwatches
.
The idea behind keeping yourself informed is that following the emerging technology closely will allow you to promptly find information on how to optimise your online store for it.
8) Use linked keywords: remember, when programming your content interface for voice search, it's important to make sure you have linked all the keywords linked throughout your site. For example, if you carry the same product but under different names or with slightly different attributes (small vs. large), ensure the links between them are correct so consumers can get to the right page.
9) Make sure your website is optimally mobile friendly. First of all, mobile-friendliness is a ranking signal. If you don't cover Google's standards for it, your store is in big trouble.
Secondly, if something does not display properly on mobile, your visitors will leave the site in a matter of seconds. No one has time to search for an almost invisible button to swipe images or look for a way to read your 10px font.
Run your site through
this tool
and if everything is fine there, test it manually (on different phones too!). If you have different product pages, go through them all and make sure everything is clearly visible to potential readers.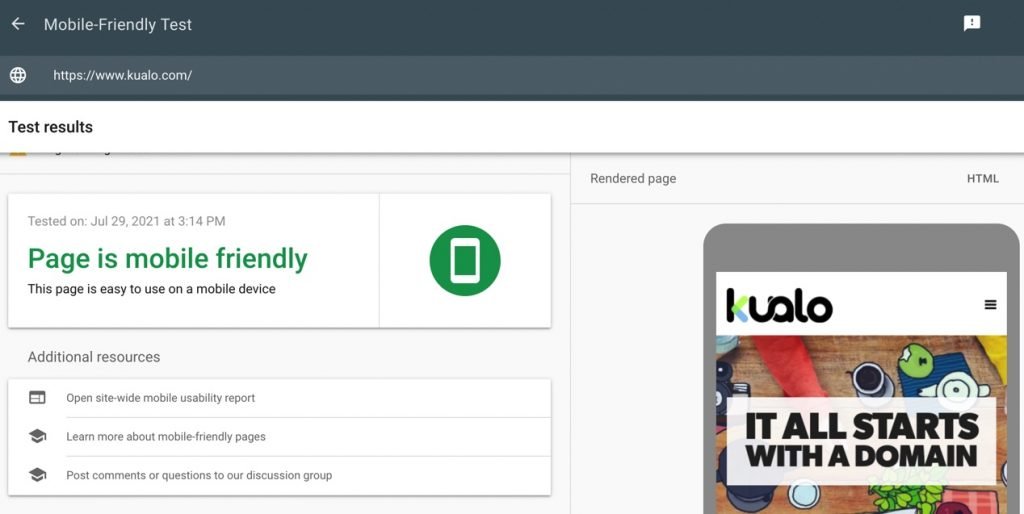 BONUS TIP: Now, this isn't specific to voice search but it is an important matter when it comes to optimising your online store.
Website speed has been a ranking factor for quite a while, and it's no different when it comes to voice queries. We know for a fact that
Google favors faster websites
, and right now, the average voice search result loads in less than 3 seconds, which is double the speed of the average web page. Having a blazing fast website may give you a nice competitive edge, especially if you find yourself surrounded by competitors offering a similar range of products.
Therefore, hosting your website on
high-performing, eCommerce optimised hosting
is a must, and it's equally imperative that you use all the optimisation options your hosting provider offers. For example, at Kualo we offer the
LiteSpeed Cache enhancing tool
, which has a record of significantly improving the speed of our customer websites. Other tools we offer are technologies like Redis and Memcached (yes, even on the shared hosting plans).
Final Thoughts
If you're not yet optimising your store for voice search, it's time to start! Voice search has been on the rise and will only continue to grow as people rely more heavily on their smartphones and digital assistants.
We've provided a few tips that should help get you started in this area of SEO. Did we miss anything? Did you try something that wasn't working very well for you? Let us know in the comment section, we'd love to hear your experiences with this!