One of the ways that we ensure that our customers are extremely safe, is through full account isolation. You may think that hosting from many shared web hosts is secure, and that your account is locked down to just you! Sadly, with the vast majority of web hosts, this is not the case.
Shared hosting providers often have serious security issues that may affect the availability of their whole server - and this could occur simply because just one of their customers has an application that is insecure. Many of the popular open source software, such as Joomla, WordPress, and many other applications besides, are popular targets for hackers. On a standard shared server, when one such vulnerable account is attacked, the hacker can easily attack other accounts on the same server or even bring down the whole server. We get countless requests from potential customers who have experienced this with their old hosts and who are curious about whether this type of thing can happen here.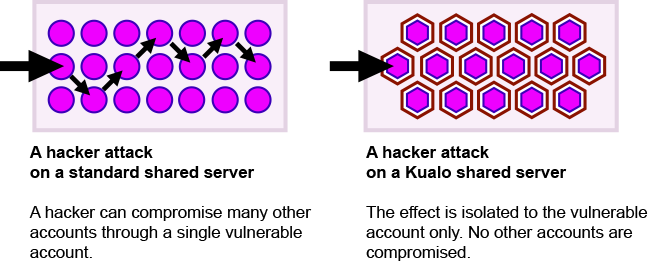 With a Kualo shared hosting account, we utilise a custom chroot isolation technology. With our solution, even if there is a single account with a security flaw, the other users on the server cannot be attacked through the web server or the cron services as is the case in a normal shared hosting environment.
This makes Kualo one of the safest hosts around, you can sleep a little easier knowing that we've got one of the most secure platforms around.
If you're looking for web hosting, and are tired of hosts who don't prioritise security, take a look at one of our
low cost hosting plans today
.