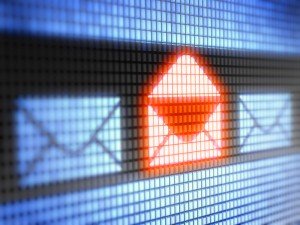 Email marketing is often dismissed as a time-consuming and ineffective marketing strategy, with too many obstacles blocking the way from campaign creation to the desired results: SPAM filters, defunct email addresses; even if the email
does
make it into a customer's inbox, where's the guarantee they will open it? And if they do open the email, how likely is it that they can be persuaded to click through to your website, or make a purchase?
As it turns out, it's very likely indeed- Derek Halpern, founder of
Social Triggers
, says that when he posted a link on his Twitter account, the link generated 300 clicks through to his website. When he sent the link out in an email, to a similar number of email addresses as he has Twitter followers, he received 4200 clicks to his website. He argues that people receive thousands of social media updates a day, but that most people receive around one hundred emails.
What's more,
consumers actually prefer email marketing over other methods
, squashing the theory that email marketing annoys people. In a recent study by
Exact Target
, "77% of consumers said they would prefer to receive permission-based marketing communications through email".
And that's the key- 'permission-based'. Email is a useful and relevant marketing tool, when it is targeted at people who have agreed to receive such emails.
You should never buy a list of email addresses (more on that later!).
So, here are our 5 steps for effective email marketing!
STEP 1: Building Your Contact List
Buying a list is the online equivalent of cold-calling -  highly annoying, unlikely to achieve results and a huge waste of time. Emails sent out to bought lists are more likely to be picked up by SPAM filters. Not only will this ensure that your emails are never read, but SPAM filters might blacklist your company and it will take a lot of time and energy to undo this. Also, bought lists often consist of unused email addresses. It's just a huge waste of money - don't do it!
Your audience should want to hear from you, and the only way to do this is to build your own list. The first step of a successful email marketing campaign is ensuring that you have a list of genuinely interested consumers. Not only more likely to read your emails, but also more likely to respond in the way you want them to.
Building an opt-in list might seem like a daunting task, but it must be done! Here are some effective methods:
Add sign-up forms to your website and social media accounts.
Ask customers to sign up when they purchase products from you.
Run competitions, both online and at events, where people enter with their name and email address.
Once you have your list, you can even section it into smaller fields, such as 'products bought', 'interests' and 'sign-up date'.
Segmenting your list will achieve better results 
- too often companies send blanket emails to everyone on their list and it's a waste of time. If you have sections within your list, you can ensure campaigns are only being sent to the relevant group. Why email everyone in your list about a recent product, for example, if you know half of them have already bought it?
With our email marketing software
MailMachine
, you can import your existing lists from a CSV file or from a database stored with one of the third parties we are integrated with, such as
Sales Force
,
Google docs
,
Formstack
and
Wufoo
. You can then manage your lists, sectioning them into smaller fields and deleting contacts when emails 'bounce' i.e. the email cannot be delivered because the address is incorrect or no longer works.
Step 2: Decide the Purpose of Your Campaign
Who
you send your email to is important, but
what
you send out is even more vital to the success of your campaign. You need GREAT content!  Before you start building up your list or thinking about which group you want to send your email to, you must think about
the purpose of your campaign
:
Why are you sending out an email?
What do you need to say?
What results do you expect to achieve?
How can I make what I am saying as interesting and appealing as possible?
One of the key goals must be to drive traffic to your web site. Make yourself irresistible to a click. It could be a mouthwateringly fantastic offer that they have a limited time to benefit from, and must visit your website to do so. Or, if you've got something great to tell them, be sure to only give them a hint in the email, just to whet their appetite, and make them click through to your web site to get the full picture. Only once you have them on your web site do you have a real, tangible opportunity for them to purchase something from you, or for you to earn advertising revenue - so make this your number one objective.
Step 3: Create Your Campaign
In email marketing, the
words are the most important thing
. You must create useful, quality content that readers want to read. Emails are designed to be read quickly, so
don't overload your email with images and links
. Of course you want the email to be visually appealing, but remember that often emails will not show images unless the viewer selects 'show images', so you can't rely on images to communicate your message.  When using images, remember to:
Include a link to the webpage version in case the email can't be shown in its entirety
Test all links and images to make sure they work
Make sure any HTML used is correct- SPAM filters hate incorrect HTML
If you're not confident using HTML, then steer clear of it. If you use an email marketing software, you can choose from existing templates instead of struggling to create your own. Our email marketing software, 
MailMachine
, allows you to easily create beautiful emails without needing to know how to properly code an HTML email, using our Campaign Builder. In a few clicks you can add text, images, maps and more - you simply use the same skills that you'd use when putting together a Word document.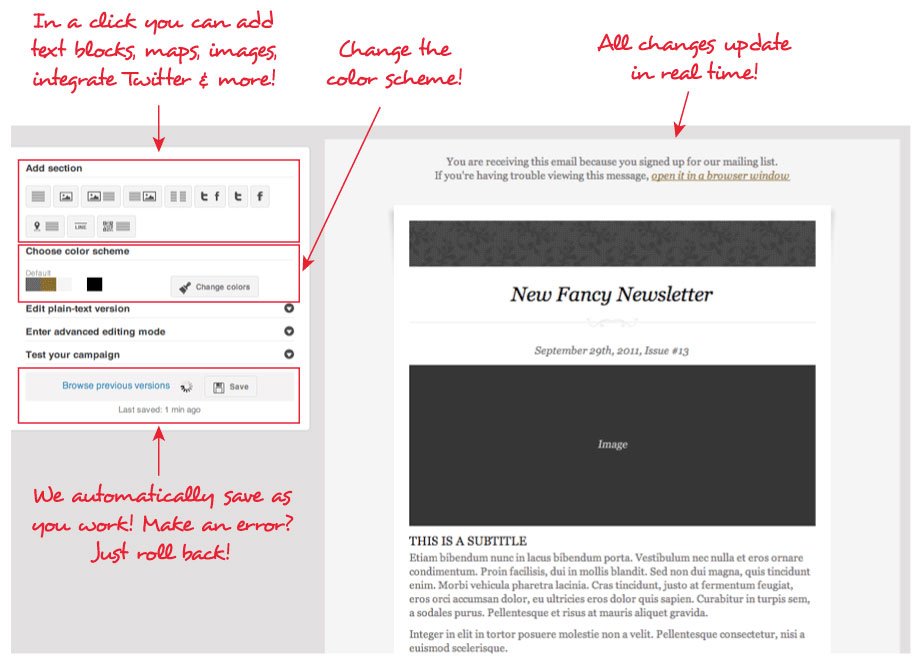 These days, it's also important to remember that people might be viewing it on their smart phone, meaning they will only see the first section of your email. For this reason make sure the copy is engaging and to the point from the start and only use relevant, quality images - first impressions count!
After creating the perfect email, the next step it to ensure people read it. What's the point in doing all this hard work if nobody is even going to open your email?
First of all, you need to make sure your email gets through SPAM filters. As mentioned above, incorrect HTML is a surefire way to get your email marked as SPAM. Using coloured text is another way- especially red and green. The subject line of an email is also very important- SPAM filters hate subject lines containing capital letters and exclamation marks and they look out for keywords like 'cash', 'credit', 'amazing', 'free', 'discount' and 'subscribe'.
It's worth mentioning that there are ways of testing whether your email will get through SPAM filters or not. If you use
MailMachine
, you can test your email against SpamAssassin - one of the most popular SPAM filtering services among web hosts and ISPs.
As well as SPAM filters, consumers themselves could sort your email into their SPAM box, just from looking at the subject line. The subject line should describe the content of the email and it should appeal to the target consumer. If in doubt, think about how you would respond to the subject line. For example, would you rather open an email entitled: 'Enjoy a cheap weekend away in the great British countryside', or 'BOOK CHEAP HOTELS NOW!!!'?
With MailMachine, you can see when consumers have unsubscribed or marked your email as SPAM, they will automatically be removed from your contact list, so that you won't send emails to people you know aren't interested.
STEP 4: Testing
The final step in completing a successful email marketing campaign is testing. With
MailMachine's
A/B split testing you can create two different versions of your email and send both to a small test group from your contact list. You can then choose how to measure the success of each email - highest click rate or highest open rate. The most successful email will then be sent to the remainder of your contacts.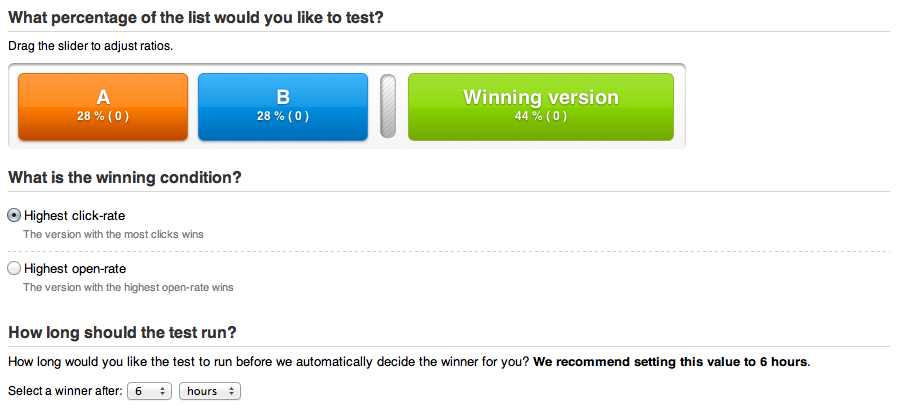 Once the email has been tested, you can also decide when it is sent out. The email can either be sent out as soon as the trial is complete, or you can schedule a different date - you could schedule the campaign to coincide with a company event, for example or the release of a new product.
STEP 5: Analysis
After your email has been sent out, you need to study the results in order to inform your next campaign. Did people open your email? Did they click through to your website, like you hoped? Have you noticed an increase in purchases?
MailMachine
provides detailed statistics for every campaign you send- how many clicks, opens, bounces and SPAM complaints you had. On the built-in dashboard you can see an overview of each campaign, as well as a report on how successful your email marketing has been overall. Use this information to figure out what worked and what didn't, so that your next campaign will be even more successful.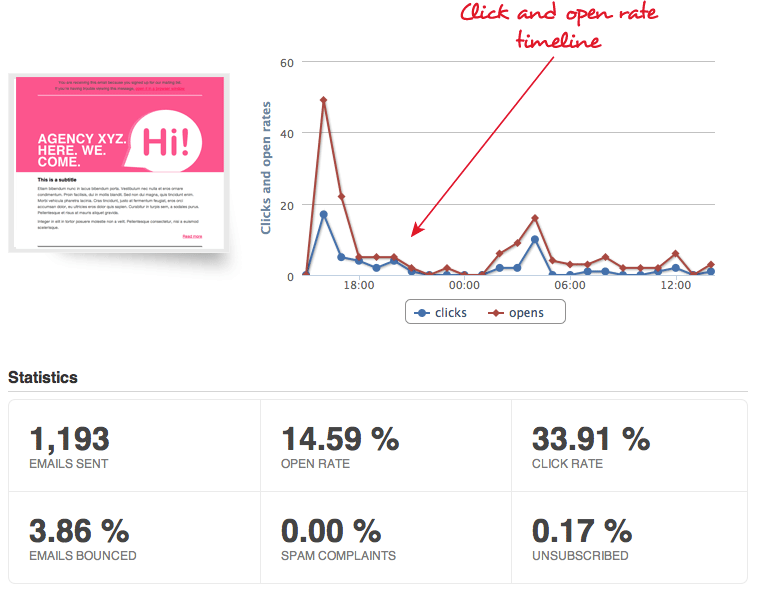 Email marketing is a great tool that is often misused, or rushed into. A well executed email marketing campaign sent to an interested audience can do wonders for your bottom line. You'll need to be prepared to analyse the results and make changes to continually improve the effectiveness of your future campaingns.
If you'd like to try email marketing for free, sign up to
MailMachine
with our Forever Free Plan- you can add up to 2,000 subscribers and send up 15,000 emails a month. It's completely free, in exchange for having a small MailMachine badge at the bottom of your email. Once you've tried the free service, you will have the option of upgrading if you want to, in order to remove our badge or send an unlimited number of emails a month. More information on our paid plans is available
here
.