Make reselling our hosting easy, with a powerful client management system - WHMCS. You'll be able to automate signups, billing and simplify with great tools such as a customer helpdesk and knowledgebase, allowing you to spend more time promoting!
We provide the leading billing solution, WHMCS, free of charge to any customer on our Advanced & Professional reseller plans. If you're on any other plan, you can get WHMCS at the reduced rate of just £7/mo - saving around £3.70 compared to their normal monthly charge!
The WHMCS Integration
The following diagram shows how the typical order process works when you integrate WHMCS with your Kualo Reseller Account...

In addition, you'll have a fantastic system to manage all your customers, provide them with support and automatically bill them when their hosting falls due!
| | |
| --- | --- |
| | |
Key Features
Billing - Multiple Currencies, Tax Support, One Off & Recurring Invoicing, Quotes/Estimates & Ticket Support Billing

Automation - Payment Processing, Refunds, Fraud Checks, Product/Domain Provisioning & Management

Easy to Use - Simple & Intuitive Interface, Fast Loading, Quick Setup & Efficient Support

Products - Offer Free, One Time & Recurring, Prorata, Custom Fields, Welcome Emails, Stock Mgt & Promotions

Transactions - Over 50 Supported Payment Gateways, Income/Transaction Logs & Statistical Reports

Support - Integrated ticket system, knowledgebase, downloads, announcements & network issues tool

Modules - Create, Suspend, Terminate, Upgrade, SSL Certs, Update Nameservers, Renew & More...

Customisable - Client & Admin Area Templates, Order Forms, Language Files & CSS Styling

Developer Friendly - Module Development Kits, Action Hooks & a Remote API
Screenshots
Admin Overview
Easy Invoicing
Products & Services - Multi-Currency!
Integrated Helpdesk
Easy Reporting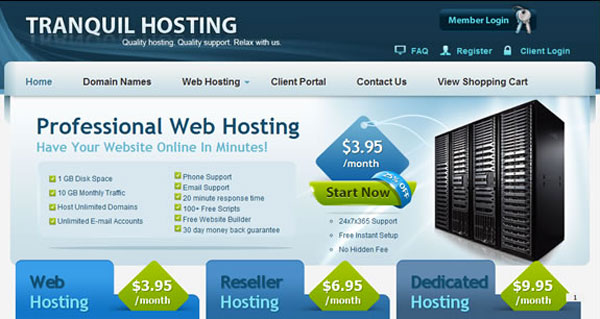 Fully Integrates into Your Web Site
Easily integrate your web site design with WHMCS!
We've partnered with WHMCSThemes.com to help you get your web site integrated with WHMCS. For a low, one time fee, they'll integrate your existing web site design with WHMCS so that it matches your corporate ID completely. Alternatively if you're just starting out and haven't got a web site together yet, you can order a full web site template, completely integrated with WHMCS so you can start selling right away.
Find Out More at WHMCSThemes.com
How to order?
To qualify for a free license, you must have either an Advanced or Professional reseller plan, or a Fully Managed Cloud or Dedicated Server.
Otherwise, we can issue a license to you, providing you are a hosting customer with us, for the discounted price of £7/mo - saving around £3.70 compared to their normal monthly charge! To order - simply open a helpdesk ticket for sales and we'll issue your license key to you! You may download WHMCS from their web site directly, or if you are on a reseller plan, it can be installed using the Softaculous Script Installer in a few simple clicks.